MusikServer MS II / MS I SE

Homepage
• MusikServer
• Data II
• Data I
• Power Supply
• Configurator II
• Configurator I
Reviews


Download
Best of HiFi 2019
MS I SE from
HiFi einsnull 2/2019
(DE, 0.3 MB)

Download Review
MusikServer MS II
from
HiFi einsnull 6/2018
(DE, 0.5 MB)

Download Review
MS I SE from
STEREO 11/2018
(DE, 0.4 MB)

Download Review
MS II from
Fidelity 40 (10/2018)
(DE, 2.3 MB)

Download Review
MS I SE from
HiFi-Stars 40
(09/2018)
(DE, 4.5 MB)

Download Review
MS I SE from
HiFi einsnull 4/2018
(DE, 0.7 MB)

Download Review
MS II/AV-PlugIn
from
lite-Magazin 11/2017
(DE, 3.2 MB)

Download Review
AudioVolver-PlugIn
from
fairaudio 11/2017
(DE, 0.3 MB)

Download Review
MusikServer MS II
from
HiFi einsnull 4/2017
(DE, 0.5 MB)

Download Review
MusikServer MS II
from
HIFI DIGITAL 7/2016
(DE, 0.2 MB)

Download Review
MusikServer MS II
from
stereoplay 09/2016
(DE, 1.1 MB)

Download Review
MusikServer MS II
from
fairaudio 07/2016
(DE, 0.9 MB)

Download Review
MusikServer MS II
from
HiFi einsnull 3/2016
(DE, 0.8 MB)

Download Review
MusikServer MS I
from
image hifi Juli/August 2015
(DE, 1.1 MB)

Download Review
MusikServer MS I
from
fairaudio 06/2014
(DE, 1.3 MB)

Download Review
MusikServer MS I
from
HIFI DIGITAL 3/2014
(DE, 0.1 MB)

Download Review
MusikServer MS I
from
HiFi einsnull 1/2014
(DE, 0.4 MB)

Download Review
MusikServer MS I
from
HIFI DIGITAL 1/2014
(DE, 1.4 MB)

Download Review
MusikServer MS I
from
HiFi einsnull 5/2013
(DE, 1.0 MB)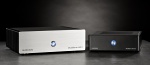 Perfectly hear music with the
MusikServer MS II and
MusikServer MS I SE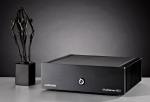 Simple yet elegant:
MusikServer MS II with
front panel in black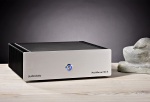 One of many options:
MusikServer MS II with
front panel in silver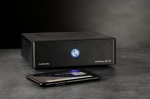 MusikServer MS I SE - A
Music server for beginners
with a unbeatable price/performance ratio.
Streaming has brought completely new possibilities to the HiFi industry. We have gathered a lot of experience here, studied the market and listened to our customers. In the end, we mastered one of the main challenges: to perfectly combine classic HiFi technology with current computer technology.

With audiodata's typical combination of engineering thoroughness and audiophile attention to detail, we have developed our music servers. Devices that maintain the tried and tested, break new ground and set standards in the process.
Since summer 2017 the MS II can also be equipped with the AudioVolver-PlugIn, a software for room correction on AudioVolver level. This means you can enjoy top-class room correction without having to integrate an additional device into your HiFi chain.
Since summer 2018 the MS II supports the streaming software Roon.
We will not leave you alone with the new technology. We support you with detailed advice and with all your questions regarding technical integration. We offer on-site installation and remote maintenance - everything to offer you a perfect music experience!
audiodata presented for highest demands the audiophile MusikServer MS II and the beginners device MS I SE with an unbeatable price/performance ratio.
Introduction
In search of the right music for the right mood, nobody has to browse through CD shelves any more. Even extensive music collections can be stored centrally on hard disk in the highest quality and easily managed with a variety of search criteria.


The music servers MS II and MS I SE play the selected titles as "music players" directly via your stereo system, or stream them via your home network to compatible network players. also called Streaming Client or Renderer), e.g. to our AudioVolver - all comfortably controlled via a tablet or smartphone as "controller".


Highest possible sound quality is a must for audiodata as well as a simple, intuitive operating concept and a unique service and maintenance offer.



Features
The ideal music server has plenty of storage space for your music collection, but it's very small. It starts and works at lightning speed, with the lowest power consumption. It also looks good and is so quiet that it can be placed in any listening room. It is simple and convenient to operate, flexible in equipment and retrofittable for new tasks.


Above all, however, it delivers convincing sound results.

Technically, a music server is always a network computer with streaming software that makes this collection available to other devices on the network, or passes it directly to the amplifier via player software and a downstream D/A converter.


But the requirements are manifold and contrary to a normal computer. While this controls many processes simultaneously, the design of a music server must be geared solely to music reproduction and optimized so that it sounds convincing.

We have worked for a long time on a solution that meets all requirements. MS II and MS I SE are convenient for laymen and offer the experts many options.



Appearance Matters
The MS II has a noble full metal housing and resembles more a chic, small power amplifier than a computer. It is completely HF-tight and does not emit any high-frequency interference radiation. This is especially important if the MS II is close to your stereo system.


To make the MS II the perfect match for your stereo, you can choose between two front panel versions and four lighting colours for the ergonomic start button.


The MS I SE has a simpler perforated sheet housing with a standard black plastic front plate.



The Specs
We have given the MusikServer MS II an extremely economical and agile quad-core processor and a lot of memory. The waste heat is transported silently via heat pipe (liquid cooling) to the cooling fins. The complete housing is lavishly damped with bitumen plates and thus creates ideal working conditions for the quiet running, energy-efficient and for 24 h/7 days server operation certified music hard disk.


The MS I SE has a dual-core processor and a standard hard disk mount.


For both devices you can choose between 2 TB (basic package, offers space for approx. 6,000 CDs in FLAC format) and optionally 3 TB, 4 TB or 6 TB storage space.


The operating system is located at MS II on a separate Samsung Pro SSD hard disk, the MS I SE has a standard SSD for the operating system.


On request, we also offer a 1 TB, 2 TB or 4 TB Samsung SSD hard disk for the music hard disk of both devices, which, unlike the classic magnetic hard disk, does not have any moving parts.



The Software
In everyday life the MS II and MS I SE work largely automatically. For individual settings you do not have to deal with a complex and for the private user unfamiliar server or Linux (©) operating system, but find a completely normal WINDOWS (©) interface, as on your PC.


The operating system starts in a flash thanks to its own SSD hard disk. The boot time of MS II is less than 30 seconds, with MS I SE less than 40 seconds.



We offer up to three streaming software alternatives. This means that the devices are more flexible in daily use than almost any other device and can be perfectly adapted to your wishes and requirements:

Asset UPnP


Asset UPnP (©) is a classic for pure server operation with network players. The renowned software combines good performance with individual adaptability to different requirements. The software is controlled by the controller app of your network player (e.g. Linn, Naim, T&A, etc.), or a standard UPnP controller app, e.g. 8Player (iOS), or BubbleUPnP (Android).

JRiver Media Center


You want one high-quality solution for all streaming options? Then we equip our MusikServers with the JRiver Media Center (©), a great and versatile playback and streaming software that allows (simultaneous) use of the music servers as music players and UPnP servers.

Combined with the customized control app JRemote (iOS/Android) creates a very comfortable and intuitive user interface with an elegant cover display, server-based playlists, full text search in your music archive and extensive editing options.


On request, we will even add custom phrases including "Conductor", "Orchestra", or "Soloist" specifically for classical-music lovers.


"Webradio & Webstreams" provides instant access to radio stations and streaming stations on the Internet without requiring a dedicated app. We have already prepared two lists with a total of 25 carefully selected stations for your convenience.

Roon-Core


For you, listening to music is more than selecting and playing music files? Are you interested in record tips and reviews, artist biographies, lyrics and concert information? Then we install the impressive infotainment software Roon-Core (©) for you.


The Player and streaming software for Roon Ready and AirPlay devices offers full text search in your music archive and analyzes your songs piece by piece. Roon independently creates its own, well-researched metadata, measures tempo, volume and dynamic range of the individual tracks, compiles extensive background material and creates interesting cross-references - independent of existing information.


So Roon becomes a kind of Music-Wikipedia!


Additionally the streaming services Qobuz and TIDAL are fully integrated into the stylish user interface, so you can seamlessly switch from songs on your own hard drive to the almost inexhaustible music offering of Qobuz and TIDAL. Add albums to your library at the touch of a button.


The extensive service offers of Roon cost an annual contribution or however a unique Lifetime fee.

Note: The streaming software Roon is not suitable for the MS I SE due to its high performance requirements!



Of course we deliver all three streaming packages in the latest program version and with a personal license. This way you always have the possibility to upgrade later without any problems.



Tagging Software


Do you want to file your favorite piano concert under "R" (for Rachmaninoff) rather than under "L" (for Lang Lang)?


audiodata has the solution. A tagging software is already installed and preconfigured in the basic MS II and MS I SE package, which allows the metadata of the stored music files to be adapted to your requirements with just a few mouse clicks.



Sound
When it comes to computers, IT engineers will assure you that "one is always one-and zero is always zero.".


Basically, they are right. But even in digital data transfer, there are factors that may cause significant sonic differences across digital audio systems.


As usual, audiodata have gone great lengths to conduct a more thorough analysis, by measuring more accurately, and listening more closely.


Today, digital systems are 100 percent reliable. Copying a mundane Excel sheet would not be possible if there was a chance that the target file contained values other than those in the source file. Both files must be identical down to a single bit. Complex error-correction routines are continuously running in the background to ensure correct and accurate data processing.


However, things are different when digital data is "in motion" and you create a snapshot.


The information may be affected by various influential factors resulting in tiny variations during the transmission of ones and zeros. And if those ones and zeros are converted back to audible music, you can definitely hear it!


This means that computers or NAS drives that use most of their computing capacity for doing things that have nothing to do with music reproduction are entirely unsuitable for the purpose.


The MS II and the MS I SE have a purist design perfected for playback. To achieve this goal, we did a lot of developing, experimenting and analyzing, constructed a bunch of prototypes, programmed specific software modules, and performed countless listening tests.


It was fascinating to see how besides power supply and mechanical features, particularly an optimal OS tweaking and the audiodata process management audibly affected the playback quality during streaming.


Here the MS II has an advantage over the MS SE due to the higher performance and the more sophisticated process management.

The music servers MS II and MS I SE are the result of a long way. We are proud to offer you with the MS II the best possible playback quality for your music collection and with the MS SE a music server with an unbeatable price/performance ratio.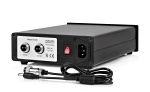 Rear view
Linear Power Supply NT-MS
with two 12 V outputs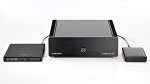 With optional extensions the
MS II and MS I SE becomes a
rip-station
or
backups your entire music collection with one mouse click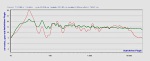 With the AudioVolver-PlugIn
room correction at the highest level is possible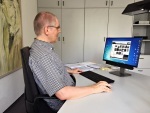 On request we support your
MusikServer via remote maintenance and offer
training courses
Enhancements
Linear power supply NT-MS


Current is important for HiFi devices. Its properties have a decisive influence on the sound characteristics of any device. The optional Linear power supply NT-MS was developed to achieve uncompromising best values for voltage stability, low noise and residual ripple.


For audiophile gourmets, the linear power supply is the optimum power supply for our music servers.


The power supply has two separate 12 V outputs. One of these outputs serves to supply our music servers, the second output can be used as a high-quality power supply for another HiFi device, e.g. a D/A converter.

Rip Package


If you want to transfer your collection of, say, several hundred CDs to your MusikServer, then audiodata has the perfect solution for you: the optional Ripping Package consisting of a high-caliber external TEAC USB drive plus dBpoweramp (©), considered by many to be the best ripping software currently on the market.


This package will turn your MusikServer into the ideal ripping system. It searches up to five online databases for relevant information on the CD being ripped and ensures error-free data grabbing using the AccurateRip technique.


After extraction, the music files are then automatically stored onto the MS II music drive and are available for streaming almost instantly.

Backup Package


This way, the music collection stored on your hard disk will grow quickly - album by album. This means at some point in the near future you will need to think about data safety.


Enter our optional Backup Packages. This includes high-quality external USB drives with a total storage capacity of up to 6 TB plus a pre-installed "one-click" solution. Using that package, all your music is backed up with a single mouse click!


Rather than relying to a complex proprietary backup format, audiodata's solution creates direct copies of your music files in their respective original format. Subsequent backups are incremental, meaning only newly added music files will be backed up.

Connectivity


Do you want to plug your MS II or MS I SE right to your amp just like a CD player?


This is where our Hardware Package I comes into play. It includes a high-quality USB D/A converter providing future-proof conversion with up to 32 bits/384 kHz; the required USB and RCA cables available in custom lengths (requires the Streaming Package II (JRiver). This package will turn your MS II into an outstanding player system that connects directly to your stereo.
You already have a D/A converter, but it does not have a USB input, but a PCM digital input (S/PDIF), or the manufacturer does not provide a compatible USB driver for your device?


The Hardware package II, consisting of a high quality USB to S/PDIF converter and the suitable USB and digital connection cables in desired length solves this problem.

Time Control


Do you enjoy using your MusikServer every day and would like to make it even more convenient while saving energy at the same time?


Our Software Package I includes an easy-to-use app that allows you to set your preferred boot and shutdown times for the MS II while monitoring all of your streaming devices. And if you happen to listen to your music longer than expected, the MS II will not automatically switch off but puts you in control, like when you decide to power down your network player once you are ready to do so.

Streaming Services


Love your streaming services like Apple Music, Tidal, Spotify, or Qobuz and are looking for a way to play them in high quality on your stereo?


Our Software Package II includes the audiodata Shairport software module specifically programmed for audiodata and the MusikServer. audiodata Shairport makes your MS II AirPlay (©)-ready.


Run your preferred streaming services apps on their native UIs and all the features you love on your iPhone or iPad and tap just once to route the played tracks to your MusikServer. Simply awesome!

AudioVolver-PlugIn


Your listening room influences the music at the end of the playback chain much more than the hi-fi components themselves. With our award-winning audio processor, the AudioVolver II, we have impressively demonstrated what is possible here with modern digital technology.


Now this option is also available directly on the MusicServer. The AudioVolver-PlugIn is a pure software solution and equips the MS II with a room correction to AudioVolver level.


The correction of the music files is done "offline", i.e. without calculation processes and without processor load during playback. The AudioVolver-PlugIn is compatible to any streaming software offered. The AudioVolver-PlugIn saves "corrected" copies of your music files on the music server, the original always remains unchanged - e.g. for adjacent rooms.


This gives you the benefit of high-quality room correction without having to integrate an additional device into your HiFi chain.

The AudioVolver-PlugIn can also be used on the MS I SE, but needs about three times as long for the calculations as on the MS II.

The AudioVolver-PlugIn requires a room calibration in your listening room, which can be done either with the AudioVolver personally on site, or with the AV Messtechnik-Set conveniently via remote maintenance.



Installation and Use
The MS II MusikServer and MS I SE are not mass products. Each unit is individually manufactured and set up. A variety of enclosure designs (with MS II), hardware configurations, optional add-ons, and custom features make each and every device unique.

But our commitment does not finish at the point of sale. The audiodata staff are experts when it comes to streaming services, with exceptional experience and we really do value our customers.


That said, a music server is still a computer, and this computer is just one piece that needs to work together with at least three other components: your router, your network infrastructure, and your mobile device. And all these components must work seamlessly in order to take advantage of the incredible possibilities and an ultra-convenient streaming experience.


Upon request, audiodata will optimize your existing home network or build it from scratch.

Remote Maintenance/Training


We will stay by your side even after you have bought your MusikServer: Our after-sales service includes 30 days of free remote installation support after your purchase.


You could even buy a 1-year renewable remote-maintenance contract. Using the popular TeamViewer remote-maintenance software, we will take care of your MS II by performing maintenance, installing updates and patches, and backing up your system.


You have a small problem or a practical question about handling? We can help you at any time via remote maintenance! In addition, you can also participate in current developments - your MS II or MS I SE always remains up-to-date.


This is particularly useful for those who are not computer savvy and have other things going on in their lives.


On request, we also provide remote training for beginners. Available courses include "Ripping Music", "Editing Metadata", and more.

The robust combination of refined tooling, top-notch hardware, precision software, audiophile passion, and the unbeatable range of services offered make the MS II MusikServer such an outstanding product.


And what should your MusicServer look like? On the pages Data II and Data I you will find all detailed information and on the page Configurator II you can put together your own personal MS II, on the page Configurator I Your MS I SE.


The device is completely manufactured in-house with daily updated hardware and software configuration and shipped after three to five working days. We deliver within the EU and export (without German VAT) to Switzerland.