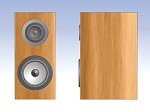 2-sides view Pierrot
After the successful premiere of a fullrange driver in the floor-standing loudspeaker Jolie this high-tech unit is now used also in the new book-shelf loudspeaker Pierrot.

Thus our "little sparrow" is identical in the complete mid-/high-range section with Jolie and inherits also its talents. Spatialness, time correctness and homogeneity of the sound are on all-highest level and point clearly beyond the compact dimensions of the cabinet. With a fullrange driver, nearly the entire frequency range is played back using one single cone, which perfects the principle of a point source. Thus the typical errors of conventional multi-path loudspeakers are already avoided in the beginning.

Besides this principle - as with our dual coax equipped models - permits perfect hearing also on short listening distances, what makes Pierrot as an ideal loudspeaker for smaller rooms.

Below 280 Hz, the fullrange driver, which is pretty small and therefore easily plays up to the upper audio band, is supported by a long-stroke 180 mm woofers with aluminium cone. This provides in an optimally designed vented enclosure for a contoured and level-proof bass playback.

By a conscious concentration on the substantial an innovatively, small loudspeaker could be realized at an attractive price. Pierrot convinces in the classical stereo mode likewise, as a multi-channel completion to the sister model Jolie. A good efficiency and a balanced impedance curve let Pierrot become an ideal playmate even for weaker amplifiers.

But we did not economies the intrinsic values: All drivers and crossover components from Pierrot are produced with the precision and pair- consistency which can be expected from audiodata. The enclosure is, of course, damped with our famous steel ball filled inner chambers and is available in a great many of veneers, paints, and special options.