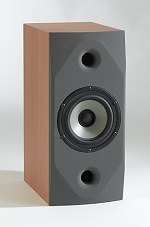 Petite in pear wood, with
grey baffle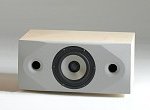 Petite as a center speaker,
marple wood, with
titanium baffle

What at first glance looks almost like the successful Partout is audiodata's multifunctional small loudspeaker Petite.

In the Petite a Dual-Coaxial driver finds application, in which the tweeter is mounted in the acoustical center of the mid-bass driver, thereby achieving a nearly perfect point-source. The totally new designed high-tech mini-format chassis, made exclusively for audiodata, is what even made such a compact loudspeaker possible in the first place.

The magnesium-cone magnetically shielded driver, measuring a mere 145mm, uses a smart bass-reflex enclosure with two aerodynamically shaped ports to develop an astonishing low frequency foundation for a loudspeaker of its size. The long-throw driver is capable of remarkable accuracy at high output levels.

In so doing, our 'small one' demonstrates musical qualities that exceed its enclosure size by far. And thus vocal reproduction, tonal balance and spaciousness are of the highest level. It was during the latest voicing procedures that we were able to benefit from the development experience of the Partout Jubilee.

The Petite is quite multi-talented and is suited for classic two-channel, center-, rear-, multi-channel or multimedia loudspeaker applications. Used in a vertical or horizontal applications, it's impressive even at short listening distances. It is precisely this characteristic that differentiates loudspeakers with a Dual-Coaxial chassis from classic multi-way systems and reinforces its suitability as a studio monitor.

Thus Petite, with a cabinet volume just half of that of the Partout, is the ideal solution for smaller and mid-sized rooms. For multi-channel systems, Partout and Carré, as well as our active sensor-controlled subwoofer Soutien stand at the ready as convincing partners.