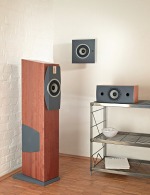 The Production of speakers in Aachen was discontinued in spring of 2014 and completely handed over to the newly formed Audiodata Lautsprecher GmbH in Salzburg (A).


Under www.audiodata.com you can learn all about the future of audiodata-speakers, "Made in Austria".

On the pages of this chapter you can still find detailed information about our until recently produced loudspeakers, the compact Petite, Partout and Pierrot as well as our floor-standing loudspeakers Jolie, Ambiance and Avancé.

Our stylish wall speaker Carré and our lying speaker Allongé provided perfect solutions for specific housing situations.

You can read all worth knowing about our active, sensor-regulated low-bass system on the Soutien sites.

Information about the until shortly after the turn of the millennium produced classical, floor-standing loudspeakers Filou, Echelle, Elance and Sculpture, as well as the aslant Soutien S-models is available in the section classics.

Are you looking for information about our beginnings and the long gone produced audiodata-loudspeakers from this period? - Then you should take a look at the Archive section!