Homepage
Loudspeakers
• Avancé
• Data passive
• Data active
Reviews
Veneers


Download
Avancé prospectus
(DE, 0.2 MB)

Download
Picturebook Ambiance/Avancé
(DE, 0.2 MB)

Download
Artikel Avancé aus
Die 100 besten
Lautsprecher der Welt
12/2011
(DE, 1.1 MB)

Download
Review Avancé from
fairaudio 07/2011
(DE, 0.7 MB)

Download Article
"Der perfekte Klang"
from
TR 09/2005
(DE, 0.6 MB)

Download
Review Avancé from
HVT (NL) 04/2005
(NL, 0.2 MB)

Download
Review Avancé from
stereoplay 11/2004
(DE, 0.3 MB)

Download
Review Avancé from
AUDIO 09/2004
(DE, 0.4 MB)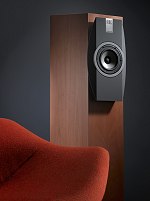 Avancé in pear wood
baffle grey,
design-ring titanium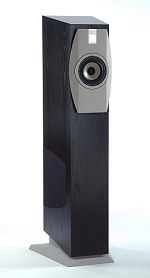 Avancé in black ash
baffle und base titanium
design ring titanium,
woofer cover black
After our compact Coax models proved impressively, which possibilities came to be with this construction method, this technology was also launched to our floor-standing loudspeakers. audiodata introduces the formidable Avancé.

For the ever-important mid-/high frequency range, the Avancé uses a newly developed Dual-Coaxial driver, in which the complete high-frequency driver sits in the acoustical center of the midrange driver. Due to this construction method, with its natural, perfectly symmetrical radiation characteristics, we come very close to the acoustically ideal of a point-source.

The exceptional homogeneity, time-correctness and imaging of this driver are fascinating in conventional stereo applications, but it also offers distinct advantages for multi-channel applications with varying listening angles and/or listening at close distances.

The Dual-Coax driver of the Avancé is technically based on the 145 mm driver of the Petite, but was decisively developed further for its role as a pure midrange driver. So the already very great sophistication of the Petite was raised to another level and a notable improvement in efficiency was achieved. audiodata does have this 'jewel,' which we developed in close cooperation with our driver supplier SEAS, at its worldwide exclusive disposal.

The mid-/high-frequency range coaxial is supported by two ultra-long-throw 220 mm bass drivers with aluminum cones. In their optimally configured bass-reflex enclosure, these drivers ensure impressive low frequency response. For smaller rooms and/or setups close to a rear wall, the modular rear wall with an integrated bass-reflex tunnel can be exchanged for a sealed one. Both versions have amazing accuracy at high output levels, which is quite convincing in Home Theatre applications.

As a high-grade option Avancé is available as a semi-active loudspeakers with a additional elecronical module, known from our former top-of-the-line model Sculpture, directly ex factory or also applicable after the initial purchase. Frequency response down to 20 Hz, the precision of a sensor-regulated system and the flexible adjustableness of the woofer range for each room size offer clear advantages in relation to purely passive systems. The power of 4 x 180 Watts relieves besides the amplifier for the mid-/high-range substantially, so here can be planned accordingly smaller. The low frequency range can optionally be handled and adjusted like an external subwoofer and so represents a technically and optically perfect solution, which gets along without an additional cabinet in the listening area.

The semi-active Avancé won the hot coveted Plus X Award for innovation and design in 2008.

The particular position of the coaxial mid-/high-frequency driver is taken into account in the formal configuration of the Avancé. The special driver is situated in its own baffle and impresses visually. A very low crossover frequency allowed the two woofers to be mounted in the sidewalls, which allows for a sleek cabinet silhouette. The elaborately configured base appears to carry the cabinet lightly, while it ensures a solid foundation.

All drivers and crossover parts are selected on a matched-pair basis with famous audiodata precision. The Avancé cabinet is also, of course, dampened with our famous tiny steel spheres in small chambers and is available in many veneers, paint finishes and with special options for baffle and base.
Our "Ambiance/Avancé Picturebook" (Download in the navigation bar at right) puts across an impression of the fascinating configuration possibilities of this loudspeaker.