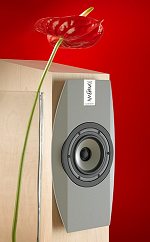 Ambiance in maple wood,
baffle in titanium,
design ring grey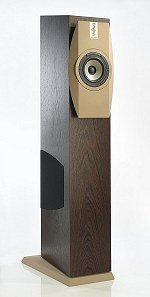 Ambiance in wenge wood
with baffle,base and
design ring beige,
woofer cover black
After the impressing success of our first floor-standing loudspeaker with newly developed dual Coax technology, the Avancé, we introduce the smaller model - the Ambiance.

For the ever-important mid-/high frequency range the Ambiance uses the same Dual-Coaxial driver, well known from Avancé, in which the complete high-frequency driver sits in the acoustical center of the midrange driver. Due to this construction method with its natural, perfectly symmetrical radiation characteristics, we come very close to the acoustically ideal of a point-source.

The exceptional homogeneity, time-correctness and imaging of this driver are fascinating in conventional stereo applications, but it also offers distinct advantages for multi-channel applications with varying listening angles and/or listening at close distances. Our previous coax-models have impressively proven the possibilities of this construction method.

The mid-/high-frequency range coaxial is supported by two long-throw 180 mm bass drivers with aluminum cones. In their optimally configured bass-reflex enclosure these drivers ensure impressive low frequency response and amazing accuracy at high output levels, which is quite convincing in Home Theatre applications.

A very low crossover frequency allowed the two woofers to be mounted in the sidewalls, which allows for a sleek cabinet silhouette. The formal desingning of the cabinet leans on the one hand on Avancé, shows on the other hand independent elements in addition.

By consistent optimization of the cabinet the price could be lowered in relation to the Avancé noticeably. Thus for many music lovers the Ambiance becomes a highly interesting alternative.

All drivers and crossover parts are selected on a matched-pair basis with famous audiodata precision. The Ambiance cabinet is also, of course, dampened with our famous tiny steel spheres in small chambers and is available in many veneers, paint finishes and with special options for baffle and base.

Our "Ambiance/Avancé Picturebook" (Download in the navigation bar at right) puts across an impression of the fascinating configuration possibilities of this loudspeaker.